This episode of Supply Chain Now features Rebecca Bowman. Rebecca is a graduate of Howard University with a Chemical Engineering degree. Most of her career has been in Manufacturing - various products and various companies. She started with Eli Lilly and Co as an intern and then was a full time hire for 2.5 years at a manufacturing plant in Lafayette, IN . The focus was process engineering and environmental compliance. Rebecca moved to a few other companies and industries, then landed at Anheuser-Busch, Inc in 1999. She was with them for 11 years in the packaging side of the brewery and in 4 different breweries during the 11 years. In 2010, she started with The Clorox Company as Packaging Dept Manager in the Atlanta, GA plant. She has since moved into project management, manufacturing, and logistics roles with Clorox in 4 different states.

Listen here: Episode 361
or
Listen on Apple Podcast: Episode 361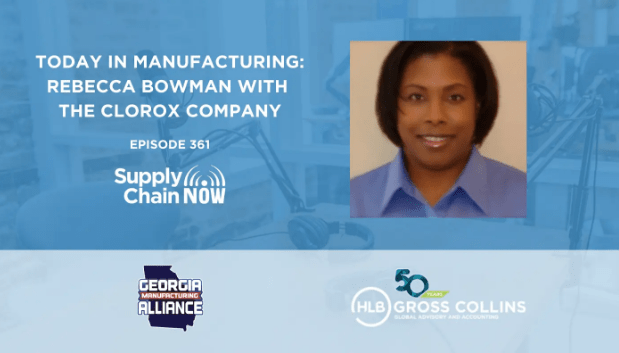 Listen to other episodes:
Episode 269 "Innovation Trends in Manufacturing: Aaron Meredith with Point A Center for Supply Chain Innovation"

Episode 324 "Pioneers of Energy Innovation: Joshua Lebarre with Sonnen"